---
WILLIAM T "DAD" JOWETT,
HERMIT OF ANTELOPE, OREGON
---
I am indebted to Alan Magson of the Bradford Telegraph and Argus for providing me with the following news items:
In an interview with Bruce Cranston of the European American Travel Bureau, William T Jowett, a former resident of Bradford, Yorkshire, revealed that he had emigrated in 1880 at the age of 18 (hence was born c. 1862, and not in 1854 as implied in the article below!). The crossing took 11 days. He eventually drifted to Oregon on the Pacific Coast of America where he settled in the hills above Antelope. The rest of the tale is told in the following news item from the New York Herald Tribune, September 10 1937: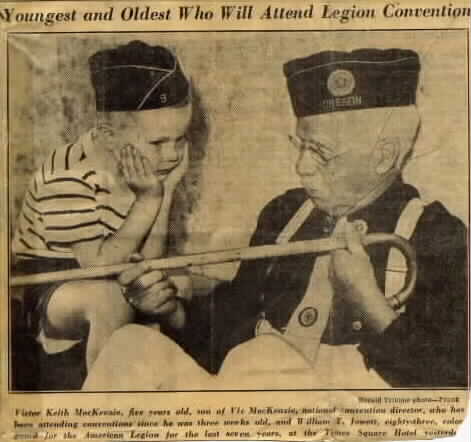 "Dad" Jowett, 83, Legion's Colour Guard, Arrives
---
Brings Horn From Oregon To Scare Police Between His Convention Duties
---
Ready To Paint The Town
---
Buck Private In Two Wars, He Challenges Young Men
---
William T Jowett, eighty three years old, a veteran of both the Spanish-American and World Wars, and colour guard for the American Legion in its conventions for the last seven years, arrived yesterday from Oregon with the intention of marching in as many parades, going to as many night clubs, climbing as many tall buildings and making as much noise as many of the younger Legionnaires.
In his room at the Times Square Hotel yesterday afternoon, Mr Jowett, who prefers to be called "Dad" showed off his American Legion convention badges, displayed a tarpaulin case which contains the colours he guards and boasted that he was known throughout the Legion as the "Hermit of Jackass Mountain". After asserting that he could keep up with the liveliest of Legionnaires and telling of times when he had to be put to bed as late as 5:30 a.m. at other conventions, Mr Jowett took out his prize possession.
"This is a bicycle horn, but I call it my "tormentor", " he said, blowing on the horn as loudly as he could. "I use it to scare policemen with. You should see people jump when I get up behind them and blow my tormentor"
Leads an Ideal Life
"Dad" Jowett said he could cut up just like any other Legionnaire because he had lived in the great outdoors of eastern Oregon, had slept on the ground for much of his life and had taken long hikes. "Of course, a fellow has to watch his liquor too." He conceded.
He has never been to New York before, even though he went to Brest, France during the World War in the Quartermasters Corps. Already he has been taken out to Coney Island, and yesterday he visited the Bronx Zoo, where he reported he saw more "critters" than he had seen in all his experiences with wild life in Oregon. My Jowett was born in Bradford, Yorkshire, England and his accent is an interesting cross of Yorkshire and Rocky Mountain Western.
Mr Jowett lives in a 12-by-14 foot cabin about eighty miles from Antelope, in southeastern Oregon. The land is still Federal-owned, but Mr Jowett squatted on it in 1898 and has been there since. He has wild bobtail cats, cougars, mountain lions and timber wolves to keep him company, and coyote serenades provide music. He imitated a coyote sound in the hotel.
Nellie Is a Lucky Mule
He takes his provisions to his mountain retreat on Nellie, his pack mule, which he never rides. He walks beside her, and when night overtakes them he takes his tarpaulin bed off Nellie's back and goes to sleep. Nellie grazes until morning. It generally takes him about six weeks to make the round trip to Antelope from his cabin.
Mr Jowett embarked for France late in 1917 from Hoboken, but yesterday he seemed not to understand that Hoboken was simply across the river and that, even though he did not ferry over to New York, he scarcely could have missed seeing a bit of the city. During the Spanish American war he served in Cuba, in charge of remounts in a cavalry company. He has never been anything but a buck private.
He is proud that the American Legion has retained him through the last seven conventions as color guard, and he enjoys the applause that he gets on the parades. He says he can take the parades as well as anyone. His liveliness at the hotel seemed to testify to that.
"They talk about the boys never going to war again" Mr Jowett said "but when the band starts playing and enlistments are called for again, they couldn`t resist it"
If you have any details or links to add, please contact me and I will forward them to Alan Magson who is collecting data on any interesting Jowetts of Bradford.
---
Copyright S D Jowitt