---
Leonard Jowitt (22/7/1911 - 12/7/1940), Battle of Britain Hero
On 12th July 1940 - in the early phase of the Battle of Britain - Leonard Jowitt of 85 Squadron, Royal Air Force took off in his Hawker Hurricane from Martlesham Heath on a mission to protect a convoy in the North Sea.

He was shot down by fire from a Heinkel 111, and crashed into the sea off Felixstowe. Leonard is commemorated on the Runnymede Memorial and in the Roll of Honour in Westminster Abbey. This page is dedicated to his memory.
Leonard Jowitt was born on the 22 July 1911 in Failsworth, Manchester, to Leonard (2/2/1886 - 7/5/1930) and Emily Jane (nee Bayley, 11/2/1886 - 13/6/1965) Jowitt . He had two sisters - Elsie (12/1/1914 - 31/12/1933) and Ethel (22/1/16 - 4/2/91). The family had a strong military history - Leonard senior had fought in WW1 in the Royal Field Artillery, surviving the war but dying of tuberculosis in 1930 at the age of only 44 as a result of the conditions endured in the trenches. Leonard senior also had six brothers, two of which, Arthur and Clarence, were killed in action in the First World War.
Leonard jr joined the RAF in 1928, serving in India 1932 - 1934 (the medal on the portrait above is the India General Service Medal) and eventually joined the re-formed 85 squadron at Debden as a sergeant pilot in August 1938 when they were soon to convert from their Gladiators to Hurricanes. After service in Lille, France where the squadron suffered heavy losses (though Leonard did shoot down a Heinkel 111), the squadron returned to Debden in May 1940 to rebuild under Squadron Leader Peter Townsend.
During the early phase of the Battle of Britain, the squadron was based at Martlesham, and it was from here that Len took off on the that fateful day in July to protect a convoy in the North Sea. Having been downed by the defensive fire of a Luftwaffe He 111, he crashed into the sea of Felixstowe - his body was never found. At the time of his death, his family were living in Merseyside.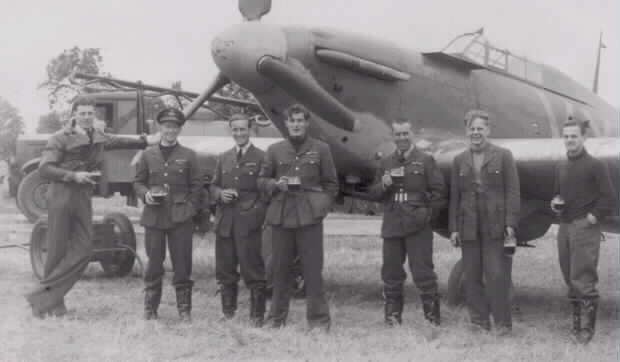 This photograph shows 85 Squadron pilots and the MO at Castle Camps in July 1940, shortly before Leonard Jowitt was killed. The Squadron code VY can be seen on the Hurricane behind the men. Len Jowitt is fifth from left, with the shorn head. Of the six pilots shown, three others were killed in the Battle of Britain, and another in 1942.
Only one survived the war.
(With thanks to Doug Bray for supplying the pictures and championing his uncle!)
The following websites make good further reading on the Battle of Britain:
http://www.battleofbritain.net/
http://www.battleofbritain.net/section-7/pilots-ab.html
http://freeport-tech.com/wwii/017_britain/40-08_raf-fighter-command.htm http://members.tripod.com/~France40/uk/raf_may.html

And if you fancy a print of an 85 squadron Hurricane:
http://www.net-link.net/motorsportcollector/MTAvPrints.html

---
Copyright S D Jowitt and Doug Bray