---
George Fiusdale Jowett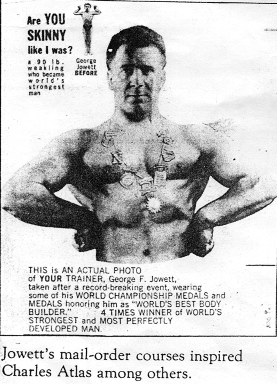 I am indebted to Kathleen Lawry for the following details and pictures concerning her great great uncle, George Fiusdale Jowett who was a strongman and bodybuilder of some note if the early 1900's. Later, George's fame built as he became known as an inventor and manufacturer of sports equipment, an author of several booklets on physical training, and physical trainer, teacher and mentor to young men all over the world.
George Fiusdale Jowett was born in Bradford, Yorkshire, England, to George Jowett, a builder and joiner, and Eliza Scarborough Jowett, nee Bown, a practical nurse, on Dec. 23, 1891. When he was six months old he fell from his mother's lap to land against the firplace and irons. As a result he was critically injured and hospitalized several times over the course of the next few years. Indeed, at the age of 8 his parents were told that he would not live to be 15 and that he would never walk again. When an uncle took him to see Eugene Sandow, the famous "Hercules" of the nineteenth century, and the young Geroge learned that Sandow, too, had once been diagnosed as fatally ill, the boy met his epiphany and was fired with the desire to follow in the footsteps of this great man. Against the advice of his doctors, the 11 year old George began physical fitness training at the Old Navy Hall in Bridlington, Yorkshire, where the family had moved. At the age of 15, instead of meeting his expected demise, George became the international gymnastic champion in his age group, and by the age of 18 had won world titles in featherweight, lightweight and welterweight boxing, plus acclamations in both junior weight lifting and catch-weight. He was named "Best developed man in England" and later "Most Perfectly Developed Man". These were but two of four international titles he would win in his lifetime.
George wanted very much to help other people as he had himself been helped; he began to think about creating training courses, and eventually establishing a school and training centers. He went to Europe to study with leading physical culturalists of the time (physical educationists), haunting libraries and bookstores in search of details about human anatomy. At the age of 19 he came to Canada in search of his dream. He did not achieve it quickly. George settled in Inkerman, Ontario, where for 11 years (with the exception of a 3 year stint in the Canadian Expeditionary Forces in WWI) he toiled as a blacksmith, all the while honing his ideas on muscular development, working out ideas for physical equipment that would allow these ideas to work. The blacksmith work paid the bills; it supported himself, his wife, Bessie Hilda Bouck (Oct 1, 1896-Jan 15, 1984), an accomplished musician and vocalist, whom he married on Oct 15, 1913, and his only daughter Frances Phyllis Eliza, known as Phyllis (Apr 30, 1916- Apr 9, 1998). Phyllis trained side by side with her father, beginning her first weight lifting at the age of two with a set of one and a half pound mahogany barbells which her father made for her. She was not allowed to watch wrestling, however, as her father deemed it "un-ladylike". Men from miles around would came to the gymnasium above the shop where George gave lessons in wrestling, weight-lifting, and judo. He also loved to entertain at the local fairs - straightening out horse shoes, snapping chains around his body, lifting 550 lb barbells off the ground with one finger, and one-handing 160 lb anvils above his head. To Phyllis, all this seemed normal.
During these years, George continued to train and build. At 154 lbs, lifting 310 lbs, he became the first man in America to lift double his body weight. At 176 lbs, he lifted 340 lbs in a clean and jerk. At 192 lbs, he became the first North American to one-arm swing more than his own weight, pulling up 210 lbs. In Chicago, he won the title "World's Best Developed Body". Over the course of his lifetime, he was to win some 300 medals in all.
In 1923, George, by this time well known for both his own achievements and his perceptive writings on physical culture, was offered a job teaching physical education in Pittsburgh. From there George moved to Philadephia, where he founded the Jowett Institute for Physical Culture, later opening offices in New York City. He established a very successful mail order business, for which he wrote and sold booklets with titles like "How to Mold a Mighty Wrist",and "How to Mold Mighty Arms". One booklet, "Molding Mighty Muscles", which sold for 25 cents, sold 25 million copies. Here, he also introduced and began manufacturing sports equipment of his own invention and design: the revolving, plate-loading barbell , the coil-spring chest expander, and the Seat of Health, a cast-iron rowing machine that could be folded into a suitcase. The latter item was so popular that song writers Mitchell Parish and Frank Perkins wrote a top hit "Seat yourself in the seat of Health and you'll be sitting pretty all day". In 1927, he published a book called "The Strongest Man that ever Lived", about Louis Cyr, a Canadian strongman who was so famous that one Montreal newspaper ran a black banner headline on the day he died.
By the late 30's, George controlled five corporations, and had offices in Australia, New Zealand, parts of Europe, Britain, and the far east. His students included Tom Mix, the Weider brothers, and Johnny Weissmuler (Tarzan). Weissmuler was so impressed with the Seat of Health that he endorsed it free of charge.
An accident in 1940 left George with a broken back and temporary paralysis, and in its wake he began to lease out his businesses and move toward what was for him semi-retirement. In 1945, the family returned to Canada and lived quietly, restoring Trelawny Manor, a stately house which had formerly been in his wife's family, and whose history dated back to 1797 and United Empire Loyalist days. But George remained active; in 1956, at the age of 64, he lifted a 245 lb dumbbell above his head with one hand, much to the amazement of the reporter who captured the event on film. He worked tirelessly for his community, helping to establish the new community of Riverside Heights when the St. Lawrence Seaway Development Project led to the flooding out of their home community of Riverside in 1958. As People's Warden of Holy Trinity Anglican church, George led the drive to move the 200 year old church, stone by stone, from its old location to the new.
In 1968, the year before his death, George was presented with the Molson Trophy in Montreal, honoring him as the man who had contributed more than anyone else to bodybuilding. George died of cancer on July 11, 1969 and is buried at St. Lawrence Seaway Union Cemetery. His gravestone reads, in part, "a humble man who carried his meritorious achievements with quiet dignity and thanksgiving."
George's daughter Phyllis had no children, and in 1997 donated much of George's memorabilia (scrapbooks, photo albums, medal, files and manuscripts) to the Todd-McLean bodybuilding/weightlifting collection at the University of Texas, including George's anvil and the pair of one and a half pound mahogony barbells mentioned above.
Kathleen has only traced George's family back two generations so far. His father George was born in the 2Q 1860 in Bradford, Yorkshire, married to Eliza Scarborough Bown Sept 1, 1886 in the Church of St. Luke, Parish of Eccleshill, Yorkshire. George's grandfather Benjamin was a stone mason, born circa 1829/1830 in Bradford, and married to Eliza Fusdale in the 2Q 1850 in the Leeds R.D.
During the 1881 census George (the father of George Fiusdale Jowett) is 21, unmarried, and living at home. The census details are:
Bengamen Jowett head stone mason married 51 M Bradford, York, England
Eliza Jowett wife married 49 F Norwood, York, England
George Jowett son builder and joiner Unmarried 21 M Bradford, York, England
Clara Jowett daur factory hand unmarried 17 F Bradford, York, England
William Jowett son factory hand (worsted) 12 M Bradford, York, England
Fred Jowett son scholar 7 M Bradford, York, England
Sarah A. Hardy neice, factory hand unmarried 16 F Bradford, York, England
Kathleen herself is descended from George's sister, Laura Kathleen Jowett. Laura married Jacob Green on Nov 1, 1904, and had two children, Kathleen (Aug 1, 1905- March 24, 1989), and Doris, a few years later. When Doris was still a baby, Laura and Doris moved to Australia, leaving Kathleen behind to be brought up by George's parents. Kathleen has been unable to trace Laura and Doris in Australia, although she knows that Laura died a Mrs. Percy Parker in 1966 somewhere in Australia and she apparently had another child named Guy whilst in Australia.
Kathleen would be delighted to hear from anyone else who connects to this family and I would be pleased to put them in contact with her.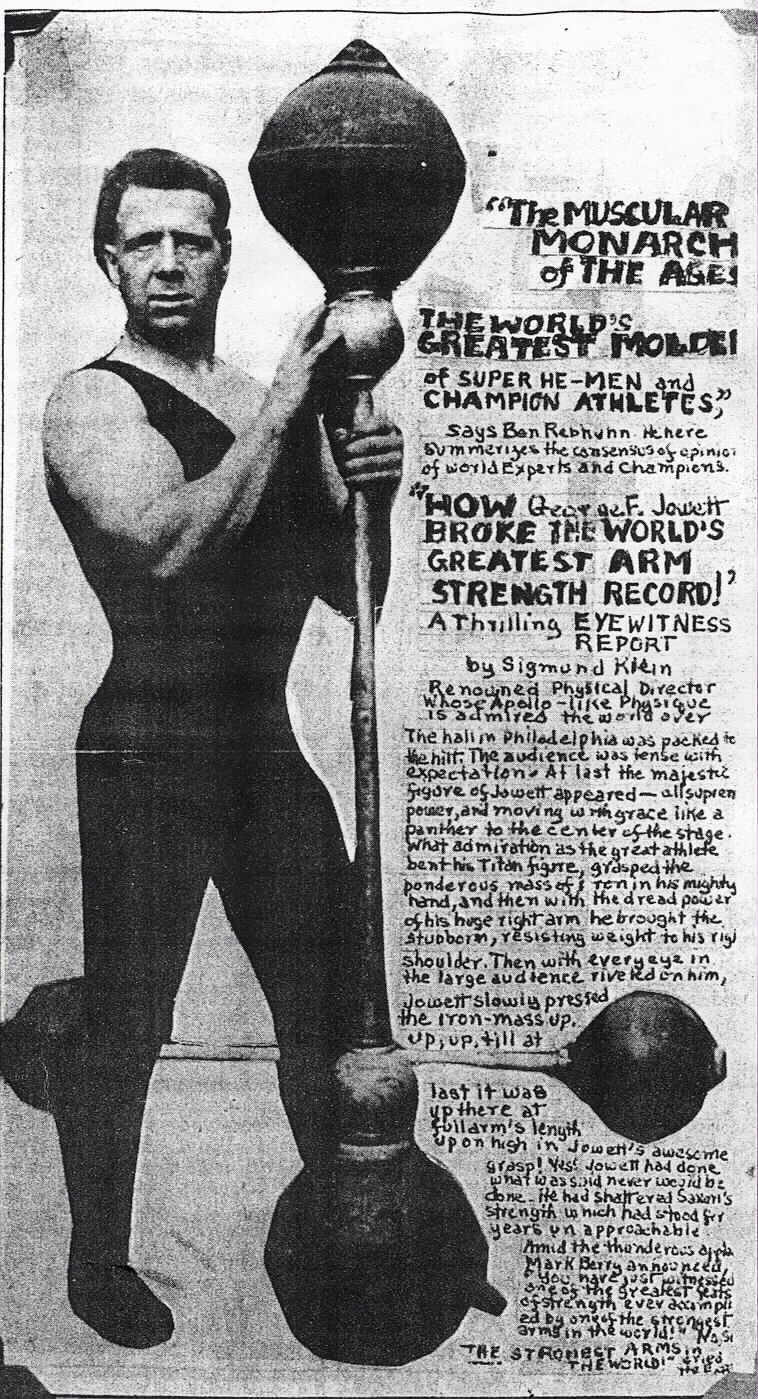 For further details check out:
http://www.geocities.com/HotSprings/Villa/4527/jowett.html
http://www.geocities.com/SoHo/Museum/6496/page112.html

---

Copyright S D Jowitt, Kathleen Lawry