Rothwell and Oulton Index
---
MY JOWITT ANCESTORS - THE JOWITTS OF OULTON
Jonas Jowitt (1762 - 1832) and Elizabeth (Betty) Robinson (1761 - 1837)
My own line so far goes back to my greatx4 grandfather Jonas Jowitt who surfaces in Hartshead parish, close to Halifax and Bradford, with his marriage to Betty Robinson in 1784. He may be the Jonas born in Clayton in 1759 to John Jowitt, Innkeeper, but this is yet to be proven.
If he did come from the Bradford area, as is likely, it was Jonas that took the family away from this Jowitt "hot spot"; within the space of about fourteen years he left the family home, was married in Hartshead, had his first child there and then moved on, first to Woodkirk and then on to Oulton in the parish of Rothwell where the last of his eight children was baptised and where his descendants laid down their roots.
Jonas married Betty Robinson at Hartshead on July 26th 1784, and here he also had his first son Jonas baptised on April 3 1785. During their time in Hartshead Jonas was described as a tanner from Birchouse in that parish. After the baptism of Jonas there is no further record of the family in the Hartshead records. (The parish records do show a Jonas and Elizabeth Jowett having children baptised in Hartshead between 1818 and 1833. These entries did have me worried for a while but the census for 1851 shows that this Jonas was born in Shorton, not in Hartshead parish and hence is NOT Jonas son of our Jonas and Betty.) The next recorded event is the baptism of their second child William at Woodkirk in 1787 where the family lived between c1786 and c1800, in the hamlet of Lee Fair or Lee Gap.
Lee Fair is present on modern OS maps as Lee Fair Green. As you stand in the south east corner of Woodkirk church yard and look outwards from the church, it is the green field rising up immediately beyond the stream no more than two hundred yards in front of you, to the corner of two minor roads.
The churchyard in Woodkirk itself is quite extensive but, for the most part totally overgrown rendering the majority of gravestones either lost or totally unreadable. Though many Jowitts must have been buried there, only one Jowitt headstone remains intact or legible today to represent the many lost generations that have lived, worked and died within the parish. That headstone reads:
In loving memory of HANNAH
Wife of
EMMANUEL JOWETT
of Westerton, West Ardsley
who died February 18th 1890
aged 55 years.
Also the above named
EMMANUEL JOWETT
who died October 26th 1899
aged 74 years
As far as I know, Hannah and Emmanuel are not related to my line.
Jonas and family left Lee Fair between 1800 and 1803 and moved to Oulton in Rothwell parish. The home of Jonas and Elizabeth in Oulton was "The Hollins", a home which one time vicar of Oulton, Rev. Mercer, states was built for Jonas and his un-named brother (James?). The last of their eight children, Mary, was baptised at Rothwell in 1803.
The eight children of Jonas and Elizabeth are:
Jonas Baptised at Hartshead 3/April/1785. According to Batty's History of Rothwell Jonas was living in Oulton in 1878 with his Brothers Benjamin and Joseph. They had also dined at their elder brother's house (presumably Jonas) in Tingley Common, West Ardsley, the previous August. Jonas and Sarah Jowett had eight children baptised at Woodkirk:

Mary Ann (29 Mar 1812)
Sophia (22 May 1814)
Mary (6 Dec 1816)
Jonas (14 Dec 1819). Married Mary and had two children baptised at Woodkirk:

Jonas Pawson (20 Oct 1844)
Richard (19 Aug 1846)

Sarah (29 Jul 1821)
John (3 May 1824). Married Mary and had two children baptised at Woodkirk:

Elizabeth (4 Jun 1847)
Sarah Ann (14 Mar 1845). Married Leeds RD q/e Mar 1863?

Elizabeth (9 Dec 1827)
George (19 Sep 1830). Married Leeds RD q/e Dec 1863?
William (bapt. 20 May 1787 - 15 Dec 1869), married Mary Pool (born Oulton 1790) at Rothwell 4 Nov 1811. William was born at Low Street, Lee Gap, Woodkirk and was a gardener of Rhodes Green, Oulton in 1841. He was living in Hollings Cottage, Oulton in 1861. They had 8 children, born in Oulton and baptised at Rothwell:
Joseph (born 20 Feb 1811, bapt. 15 Mar 1811)
Sarah (20 Mar 1814)
Elizabeth (bapt. 12 Oct 1817)
William (bapt. 20 Aug 1820, Ag. labourer in 1841, married Mary Dalby). Had a daughter Mary Jane baptised at Oulton 30 Jun 1850.
John (bapt. 7 Mar 1824). Married Sarah Howard and had a daughter Sarah born at Methley and baptised at Oulton 10 Oct 1858.
Benjamin (bapt. 4 Jan 1824, bur. 9 Apr 1830)
Mary Ann (bapt. 13 Dec 1829, bur. 2 Jun 1870), married cousin Thomas Jowitt
William and Mary were buried at Oulton in 1869 and 1861 respectively.
Sarah (bapt. 23 Oct 1789, bur. 17 Jan 1798 at Woodkirk)
Martha (bapt. 28 Oct 1792), married Thomas Foster 14 Apr 1828.
John (1795 - 1798)
Joseph (bapt. 25/12/1799 [Christmas Day - what else could he be named!] at Woodkirk, born Lee Fair), general labourer, married Hannah ? (1806 - 27/2/1868, born Garforth. Given as Hannah on the baptisms of Susanna and Emma and also in the censuses, but listed as Susanna in the Oulton prs for other baptisms! Is this Susanna Vincent who married Joseph Jowitt at Leeds St Peter 29 Oct 1826 (IGI)?). Living at Farm Cottage, Oulton in 1851/1861, Hollins House, Oulton in 1871 and Royds Hall, Oulton on 1881. Joseph and Hannah/Susanna had six children, all baptised at Oulton:
Susannah (bapt. 23 Mar 1828)
Emma (bapt. 30 May 1830). Married Leeds RD q/e Dec 1861?
Jane (bapt. 20 Oct 1832). 1881 census - First laundry maid, unmarried, head of household at Martin Hussingtree, Worcestershire.
Benjamin (bapt. 28 Feb 1836, married Hadassah Brook of Altofts). Maltster of Hollins House Cottage, Oulton in 1871, office porter of New Lodge, Oulton in 1881. Had 2 children:

Harriett (sic.) (born 1863, Cheshire)
Joseph William (born 1866, Cheshire or "The Hough", Staffs. Errand boy in 1881). Married Mary and had two sons; William (1893) and Norman (1895)

Mary (bapt. 14 Jul 1839)
Elizabeth (bapt. 11 Feb 1844, married John Britton, ship carpenter at Oulton on Oct 5 1873). 8 children known, all born in Oulton:

Hannah (born 1873)
Harriet (born 1875)
Willie (born 1877)
Sarah J (born 1879)
John F (born 1880)
Hadassah (born 1884)
Albert (born 1885)
Charles E (born 1886)
Joseph died at Oulton Lodge in 1884 at the age of 85. Joseph and Hannah are buried at Oulton, though unfortunately the date of Joseph's death on the tombstone is illegible.
Mary (born at Oulton 28 Sep 1803, baptised at Rothwell 6 Nov 1803). Married 27 Feb 1831 to Ephraim Kitson, millwright of Manchester at Wakefield St Johns (recorded as Mary Jewell). Had 5 children:
Eliza (1835 - ?). Married William Whitworth Walton (born 1832 at Sowerby, West Yorkshire) and had two children:

Ephraim (17 Mar 1854 - ?).
Mary Ann (1859 - ?)

Ephraim (1837 - ?)
Mary (1839 - ?)
Eliza Ann (1844 - ?)
Margaret Elizabeth (1849 - ?)
Jonas was buried at Oulton 25 Oct 1832, Elizabeth was also buried at Oulton, on 26 Feb 1837.
Benjamin Jowitt (1797 - 1880) and Sarah Hewitt (1797 - 1869)
Benjamin Jowitt, my greatx3 grandfather, was born at Lee Gap, and baptised at Woodkirk on September 17th 1797. Sarah Hewitt was born in Oulton 26/3/1797 and baptised at Rothwell on April 30th that year. They were married at Wakefield St Johns 27th December 1824.
Occupation given as Tanner in 1830, Brewer in 1833, labourer in 1836.
1841 census; Benjamin was an ag lab of Oulton with wife Sarah and children John (14), Thomas (12), William (9), Joseph (7) and Richard (4).
1851 census; Benjamin and Sarah lived at Farrer Lane, Oulton with sons William (19) and Richard (14), plus Hewitt Hurdus (visitor).
1861 census; living at 40 Lily Lane, Oulton with Sarah and son Richard (24, maltster) plus boarder Hindus Hewith, Stone Mason
1871 census; Benjamin was living alone on Lily Lane as a widower, husbandman.
Later of 15 Farrar Lane, Oulton. According to Batty's History of Rothwell Benjamin was living in Oulton in 1878 with his Brothers Jonas and Joseph. They had also dined at their elder brother's house (presumably Jonas) in Tingley Common, West Ardsley, the previous August.
Benjamin and Sarah had at least five children, all born in Oulton:
John (born 1827)
Thomas (bapt. 15 Nov 1828, died 1874) Ag. labourer, drayman in 1896, married his cousin Mary Ann Jowitt (bapt. 13 Dec 1829, died 1870) and had 8 children baptised at Oulton:

Mary Jane (born 1850), had an illegitimate daughter Lily Naylor Jowitt baptised at Oulton 28 Feb 1869
Elizabeth (bapt. 26 Jun 1853), married William Hutchinson at Oulton 19 Dec 1874.
William (bapt. 15 Sep 1855, gardener in 1871),
Richard (bapt. 22 Oct 1859, married Ada Beatrice Clarkson , died 28/2/1947, buried at Oulton). Lived at 12, Farrar Lane, Oulton. Known as "Dicky".
Arthur (born 1863, general labourer living with Richard and Elizabeth in 1881). Married Annie Harrison, had six children:

Arthur (born 23 Jun 1883). Also known as Arthur Jowitt Harrison, hence almost certainly born before his parents marriage.
Emilie Grace (born 5Jul 1886, married John Slee). Had one daughter, Marion.
Walter (born 25 May 1888, married Elizabeth ?). Had four children; Arthur, Elizabeth, Walter and Hilda.
Hilda (born 16 Aug 1890, married Ben Sykes). Had five children; Bernard, Dorothy, Queenie, Phyliss and Lily.
Mary Ann (born 21 Aug 1901, married William Higginbotham)

Hannah (born 1865), married Francis Haigh, waiter.
Eliza (born 1867), married Alfred Mirfin, quarryman.
Albert (1868 - 1869)
[Richard (bapt. 12/6/1830 - IGI)?]
William (born 1832, married Mary Ann ?, born 1831 at Oulton). Stonemason/quarrier, unemployed in 1881. Had 11 children (and just one boy!), all born in Oulton:
Ann Elizabeth (bapt. 26 Nov 1854, married 19 Jul 1879 Robert Cole)
Sarah Jane (bapt. 16 Mar 1856, dressmaker in 1881)
Louisa (bapt. 3 Jun 1859, schoolmistress in 1881)
Mary Emma (born 1859 dressmaker in 1881). Originally baptised 26 Jun 1859 as Mary Ann, re-baptised as Mary Emma 6 Oct 1861 (date of birth given as 8 May 1859) alongside younger sister Henrietta. Appears in census as Mary Emma. Are Mary Emma and Mary Ann different persons? Not likely as the latter was baptised after the birth of Mary Emma who was baptised later. Confused? So you should be!
Harrietta (bapt. 6 Oct 1861)
Alice (1863 - 1866)
Benjamin (1865 - 1866)
Benjamin (bapt. 15 Dec 1867). Married Louise Marjerison and lived in Beeston, Leeds. Benjamin and Louise had four children: William (~1895 - ~1960, lived in Brighton, England), Sydney (1899 - ~1921, died shortly after Army discharge), Frank (1904 - 1963, married Gladys Mary Calvert and lived in Leeds until emigrating to Canada in 1952 where their descendants now live) and Cyril (~1909 - ~1956, married Emily, lived in Leeds).
Alice (born 1870, married name Whiteley)
Lily (born 1871)
Helen (bapt. 24 Sep 1873)
Ethel (born 1876)
Joseph (bapt. 16 Jan 1833, married Esther ?, born 1837 at Ovingham(?), possibly in Leicestershire). Labourer/maltster of Taylor's Yard. Foreman in 1881. Had nine children (7 girls and just 2 boys!) all born in Oulton:
Sarah (born 1860, servant at Oulton Hall in 1881 and important in that she was probably the friend of Mary Hindley who gave Mary a photograph album as a birthday present in 1883). Sarah was buried in Oulton aged 75, ("eldest daughter" of Joseph and Esther) though the date has been deleted from the tombstone.
Jane (bapt. 6 Oct 1861)
Clara (bapt. 10 Jan 1864, teacher in 1881, married John Hodgson)
Ada Elizabeth (bapt. 20 May 1866)
Harry (bapt. 30 Aug 1868, buried in Oulton, died Dec 2 1878 aged 10 years and 6 months)
Eleanor (bapt. 9 Sep 1870, died Mar 4 1908 age 37)
Gertrude (born 1874, married name Newton, died April 19 1909?, age 35)
Charlie (bapt. 3 Dec 1876, died 2 Dec 1892 age 15)
Esther Cordelia (bapt. 26 Oct 1879). Teacher, married name Beckett. remembered by former pupil Lily Sykes nee Jowitt as a small, plump lady, nice to her pupils!
Joseph and Esther are buried together in Oulton together with Harry, Charlie and Sarah; Joseph died Jan 5th 1915, Esther died Oct 8 19?? (presumably 1906) aged 69.
Richard (born 23 Apr 1836, died 10 Sep 1900) married Elizabeth ? from Box, Wiltshire, (1837 - 8 Dec 1898). Labourer/maltster, Richard and Elizabeth are buried at Oulton. Living in Lilly Lane, Oulton in 1861 with boarder Hewith Hindus (who was a visitor to Benjamin's house in the 1851 census), stone mason. Richard and Elizabeth had six children, all born in Oulton:
Charlie (born 1865, died as infant)
Charlotte Sarah (bapt. 21 Apr 1867). Dressmaker, married Thomas Moore 31 Jul 1889.
Eleanor (born 1868, died as infant)
Edward (1869 - 21 Nov 1952, buried at Oulton with his wife Ada, died 23 Aug 1919). Had one child; Charles Edward, bapt. at Oulton 20 Oct 1901.
Nora (bapt. 1 Nov 1874). Married Charles Briggs, clerk, at Oulton 4 Feb 1897.
Sarah died between 1861 and 1871. Benjamin died of old age on the 28th May 1880 at Oulton. Witness present at the death was his son William.
John Jowitt (1827 - ?) and Sarah Ingham (1825 - 1883)
John Jowitt was born in Oulton and baptised at Rothwell on March 12th 1827, first son of Benjamin and Sarah Jowitt. Sarah Ingham was born in Arthington, first child and daughter of Thomas and Mary Ingham (nee Purdey) and baptised at Adel Church on December 4th 1825.
John and Sarah were married at Rothwell on February 26th 1849, John a labourer, Sarah a servant. John signed the register, Sarah left her mark, Witnesses were John Wainwright and Sarah's sister Mary Ann Ingham. They had seven children, all born at Oulton:
Thomas (born 27 May 1849). Carpenter, living in Chadwick Row, Oulton in 1881. Married Harriet Jones (born 1850, Longnor, Shropshire) 6 Aug 1874 and had one son:

Frederick John (born 1 Jul 1877, Oulton). Compositor, married Maria Clark (born 10 Apr 1875, Halifax) at Harrogate on April 10th 1902. Had 2 sons, Ernest Frederick (23 Aug 1903 - 5 Jan 1970) and Harold Stanley born 26 Feb 1906.
Sarah Ann (bapt. 14 Jun 1850)
John (1854 - 1854)
Mary (bapt. 28 Feb 1858). I have a King James' Bible bearing the inscription "Mary Jowitt, March 26th 1877, from Mr and Mrs Hamilton, Oulton". Below this, in another hand is "to Cyril from Auntie Polly, November 18th 1920". This will have been presented to Mary by the Reverend Hamilton of Oulton and then passed on to her nephew Cyril - son of her brother Benjamin.
John (bapt. 3 May 1832), groom in 1881.
Edith (bapt. 22 Jul 1866)
John was a general labourer ("labourer of all works") on Benjamin's birth certificate and living in 1851 at Royds Green, Rothwell (also known as Rhodes Green, and where John's uncle, William Jowitt was living in 1841). By 1871 he was a brewery labourer and later appeared on Benjamin's marriage certificate as a maltster.
Sarah was a widow in the 1881 census so John died between 1871 and 1881, probably away from Oulton as there is no relevant death for the area listed in the St Catherine's House registers. Sarah died on April 1st 1883 after suffering from cancer for 18 months. She was 57. Witness in attendance at the death was her eldest son Thomas.
Benjamin Jowitt (1860 - 1938) and Mary Hindley (1864 - 1919)

My great grandfather Benjamin Jowitt, taken from Mary Hindley's photo album
Benjamin Jowitt was born in Oulton on May 19th 1860, fourth child of John and Sarah Jowitt. A gardener/nurseryman by trade, he was living in Oulton in 1881 but by 1891 he had moved to 2, Green Lane, Heaton Norris where he was lodging with the Slater household.
Mary was born Mary Hindley in Sandiway, Cheshire on the 6th March 1864, Mary was the second child of Samuel Hindley and the only one by his first wife Ann (ne Newton) to survive beyond infancy. Her only full brother, Edward, died at the age of 2 when Mary was only 5 months. Sadly, her mother also died when she was young, on March 20th 1866 just two weeks after Mary's second birthday. Samuel Hindley remarried on April 22nd 1868, again at Weaverham church, to Susannah Taylor from Wigan and Mary grew up with her father, step mother, two half brothers (George and James) and two half sisters (Jane and Sarah) on the smallholding on Littledale's Lane, between Sandiway and Hartford.

In the group pictured here, the figure on the far left is Benjamin Jowitt. In the centre at the back is the Rev. Richard Hamilton, vicar of Oulton 1847 - 1889, accompanied by his wife Kathleen and their three daughters. Who the remaining characters are I do not know. Can any one else help?
By 1881 Mary had moved into service as a housemaid to Edmund and Isabella Calverly at Oulton Hall where she met Benjamin.
The two were married at Mary's family church, at Weaverham on 5th January 1892 and afterwards lived at 250 Green Lane, Heaton Norris. The house is still there today, a mid-terrace house in Nursery Terrace. The lane is well kept and still cobbled, probably looking much as it did when they lived there. A new pub (the Nursery Inn) stands at the end of the road, next door to the terrace, on the site of an earlier pub of the same name. Behind the terrace are allotments which face out onto Nursery Road. This is probably where Benjamin's nursery was.

Benjamin and Mary's home at 250 Green Lane, Heaton Norris, taken in 1986 (photo Dave Jowitt)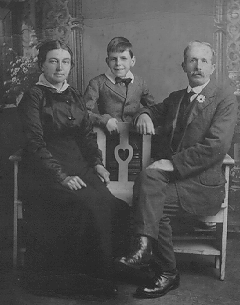 Benjamin and Mary with son Cyril, photographed for their other son Harry whilst on active service in WW1
They had two sons:
Harry (8 Oct 1892 - 28 Jan 1974, born Heaton Norris)
Cyril Hindley (20 Feb 1905 - 17 Mar 1952). Christened at St Martins church, Norris Bank. Cyril did not marry. A lifelong eczema sufferer and, as a result, a bit of a recluse, Cyril died at the age of 47 in St. Thomas's Hospital, Shaw Heath, Stockport. He was buried with his parents at Cheadle cemetery on March 21st 1952.
Mary died on March 10th 1919 after a short illness and was buried at Cheadle cemetery.
Benjamin remarried, to Alice Smith, his next door neighbour of 252 Green Lane on Wednesday, August 27th 1924 at Wycliffe Independents Chapel, Stockport. A spinster some 19 years his junior and a dressmaker by profession, Alice was born in 1879, daughter of Thomas Smith, gardener.
Benjamin died on August 3rd 1932 at the age of 78. He was buried with Mary at Cheadle (Section W/Grave number 124) 3 days later. Alice outlived Benjamin by 22 years but did not remarry. She was buried alongside Mary, Benjamin and Cyril on November 9th 1960 at the age of 81.
Harry Jowitt (1892 - 1974) and Annie Sanderson (1891 - 1947)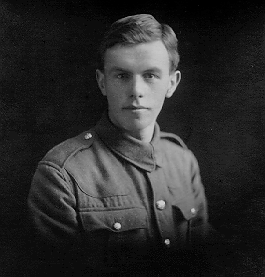 My grandfather Harry Jowitt, photographed during the First World War
Harry Jowitt was born in Stockport on October 8th 1892 and christened at Heaton Mersey Church on November 6th, the first child of Benjamin and Mary Jowitt.
Annie Sanderson was born on October 1st 1891, sixth child and third daughter of John Sanderson, railway goods guard, and Alice Sanderson ne Ogden. Born at 9, West View, Didsbury Road, Heaton Norris, the Sandersons later moved to 8, Bankfield Avenue, Heaton Norris.
Harry served in the Royal Service Corps (RSC) in France during the First World War. On his return from France he married Annie, on March 29th 1919 at St Martins, Norris Bank. Harry was still signed up at the time as the marriage certificate lists him as a Private in the ASC. Witnesses at the wedding were John Sanderson and Elizabeth Wood.
Harry was a Warehouseman/clerk by profession at Joseph Bridge and Co, Manchester. They had two sons:
Eric (2 Dec 1924 - 14 Sep 1935). Born at 36 Farmer Street, Died at the age of 10, buried in Cheadle cemetery 17 Sep 1935 following a service at St Matthews, Edgeley.
Harry (born 25 Jul 1927)
Annie died from bronchial pneumonia on July 19th 1947 at 62 Carmichael Street, Stockport at the age of 55. She was buried at Cheadle cemetery 3 days later in the same grave as Eric. Her estate was valued at £700.10s.0d.
Harry married again to Edith Ricketts at Edgeley Methodist Church, Stockport, on April 2nd 1956. A 51 year old widow and born 25 Jul 1904, daughter of William Wright, builder, Edith was living at 15, Ingleton Road, Edgeley. It was here that they lived after their marriage, Harry moving out of 62 Carmichael Street. Edith died of natural causes on May 21st 1969 at Stepping Hill Hospital, Stockport.
Harry continued to live at 15 Ingleton Road until his death on January 28th 1974 from a stroke. He was buried at Cheadle cemetery on January 31st 1974 alongside Annie and their first son Eric (Section 8/Grave number 18).
---



---

Copyright S D Jowitt