---
MARY JOWITT'S PHOTO ALBUM
The Hindleys of Sandiway
---
---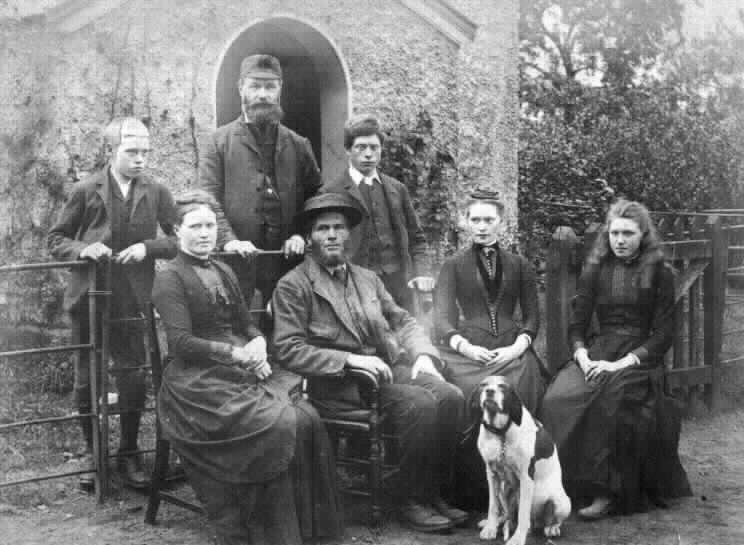 This photo shows Mary's Father and Step Mother Susannah (nee Taylor) and their family outside their cottage on Littledale's Lane, Sandiway, near Weaverham in Cheshire. The cottage is still there today as "Witsend Stables". Seated to the left of Samuel and Susannah are their daughters Jane and Sarah. Standing are their sons James and George. The other figure is probably one of Samuel's brothers - maybe Jonas or David Hindley.
---
Biography of Mary Jowitt nee Hindley
Born in Sandiway, Cheshire on the 6th March 1864, Mary was the second child of Samuel Hindley and the only one by his first wife Ann (ne Newton) to survive beyond infancy. Her only full brother, Edward, died at the age of 2 when Mary was only 5 months. Sadly, her mother also died when she was young, on March 20th 1866 just two weeks after Mary's second birthday.
Samuel Hindley remarried on April 22nd 1868, again at Weaverham church, to Susannah Taylor from Wigan and Mary grew up with her father, step mother, two half brothers (George and James) and two half sisters (Jane and Sarah) on the smallholding on Littledale's Lane, between Sandiway and Hartford. Both her father and one of her uncles (David Hindley who lived nearby) were gamekeepers, Samuel to John Bollin Littledales and David to A H Smith Barry.
By 1881 Mary had moved into service as a housemaid to Edmund and Isabella Calverly at Oulton Hall, near Leeds. Here she met her future husband, a young nurseryman called Benjamin Jowitt who lived locally and probably also worked at the hall. It was here that she also started to collect her many photographs of family and friends which she stored in a leather bound album with the handwritten inscription in the front:
Mary Hindley
With best love and
wishes for a happy
birthday from SJ.
March 6th 1883
SJ is probably Sarah Jowitt, cousin of Benjamin and also on the staff at Oulton Hall. It is almost certainly not Sarah Jowitt, her future Mother in Law as the handwriting is fine and flowing, whereas this Sarah was almost certainly illiterate (she only left a cross on Benjamin's birth certificate). The photographs in the album (mainly cartes de visite and the larger cabinet prints) are all un-named except one which is of the vicar of St. Johns, Oulton and Woodlesford, the Reverend Richard Hugh Hamilton. Born in Thomastown, Kilkenny, Ireland, Hamilton was vicar of St John's between 1847 and 1889. Other photographs show the Reverend with his wife Kathleen (also born in Kilkenny) and three daughters Elizabeth, May and Isabel, as well as various groups of people gathered around what is probably the local vicarage as well as the hall itself. Most of the photographs were taken by professional photographers in either North Cheshire or Yorkshire.
More significant is one of the earlier photographs in the album which shows the family seated in front of the cottage at Littledale's Lane. At the centre of the group is a bearded gentleman who appears regularly throughout the album, sometimes in a sergeants uniform of the Cheshire Rifle Volunteers. As we have already seen, this is her father Samuel Hindley. The other characters in the group are almost certainly Samuel's second wife plus the four children from his second marriage. Who the bearded gentleman is at the back of the group we have no idea. There are also tantalising images of an earlier generation in the album but we can only speculate as to the identity of these and the many other people featured. Indeed, we can only guess as to which photographs, if any, are of Mary herself, though I have been able to identify some photographs of Benjamin Jowitt by comparison with later photographs.
Mary married Benjamin Jowitt at Weaverham church on 5th Jan 1892 and moved to 250 Green Lane, Heaton Norris, where Benjamin was already working as a nurseryman. The house is still there today, a mid-terrace house in Nursery Terrace. The lane is well kept and still cobbled, probably looking much as it did when they lived there. A new pub (the Nursery Inn) stands at the end of the road, next door to the terrace, on the site of an earlier pub of the same name. Behind the terrace are allotments which face out onto Nursery Road. This is probably where Benjamin's nursery was situated.
They had two sons:
Harry (born 8/10/1892). Married Annie Sanderson.
Cyril (born 20/2/1905). Did not marry. Suffered for most of his adult life from eczema and died in St. Thomas's Hospital, Shaw Heath, Stockport on February 19th 1952.
Mary died at the age of 55 on March 10th, 1919 having been taken ill a week earlier. She was buried on March 14th at Cheadle Cemetery. Cyril is buried alongside his mother and father as well as Alice, Benjamin's second wife.
---
JOWETT VARIATIONS is Registered with the Guild of One Name Studies and is therefore committed to studying all aspects of the surname and its many variations, not just those connected to my own ancestry. To this end I am building up a comprehensive database of entries for the surname extracted from a continually increasing number of parish registers, wills indexes, civil records and many other sources. These records will be continually added to this page as the database expands. Please feel free to contact me at variations@jowitt1.org.uk if you have any data to add or if you have any questions

---

Copyright S D Jowitt