---
MARY JOWITT'S PHOTO ALBUM
Mary Jowitt, nee Hindley was my great grandmother. In the 1880s she worked in service at Oulton Hall, in the parish of Rothwell south of Leeds, Yorkshire. I have been lucky enough to inherit a superb collection of Victorian photographs and portraits which she aquired, many of them from her time at Oulton Hall. The only problem is that very few of them are labelled!
I have put a selection here in the hope that someone will recognise the places and people; there are many many more that are not here so I will rotate the mystery photos at regular intervals. If you do see any familiar faces or places then please please please will you let me know!
Contents
A group photo at Oulton
Benjamin Jowitt
Reverend Richard Hugh Hamilton, vicar of Oulton
Reverend Hamilton and his family
Oulton Vicarage?
Oulton Hall nurseries?
Hoola Hoops
Samuel Hindley, Mary's father
The Hindley Family
Some Mystery Portraits
Some More Mystery Portraits
Biography of Mary Hindley
More information on my own Jowitt Ancestors - The Jowitts of Oulton
---
In the group pictured here, the figure on the far left is my great grandfather Benjamin Jowitt. The stout figure rear right may be another Benjamin Jowitt. In the centre at the back is the Rev. Richard Hamilton, vicar of Oulton 1847 - 1889, accompanied by his wife Kathleen and their three daughters. Who the remaining characters are I do not know.
---
Benjamin Jowitt (1860 - 1938). My great grandfather.
---
Reverend Richard Hugh Hamilton, Vicar of Oulton 1847 - 1889
---
Reverend Hamilton with his wife Kathleen (born ~1829, Kilkenny) and daughters Elizabeth, Mary and Isabel, all born during his time at Oulton.
---
(now The Old Vicarage, Leeds Road, Oulton)
---
---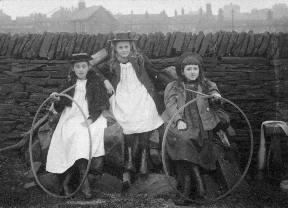 Anyone recognise the skyline? Is that a colliery to the left and a water tower to the right?
---
JOWETT VARIATIONS is Registered with the Guild of One Name Studies and is therefore committed to studying all aspects of the surname and its many variations, not just those connected to my own ancestry. To this end I am building up a comprehensive database of entries for the surname extracted from a continually increasing number of parish registers, wills indexes, civil records and many other sources. These records will be continually added to this page as the database expands. Please feel free to contact me at variations@jowitt1.org.uk if you have any data to add or if you have any questions

---

Copyright S D Jowitt