---
JOWETT ENTRIES IN THE REGISTERS OF THORNTON BELL CHAPEL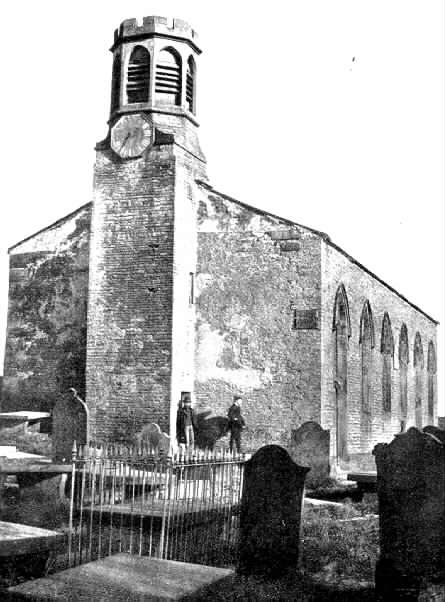 The Bell Chapel, Thornton
Notes on the Old Bell Chapel and its registers
The Brontes of Thornton and Haworth
Jarratts in Thornton
Thornton Bell Chapel Baptisms 1680 - 1724
Thornton Bell Chapel Baptisms 1725 - 1749
Thornton Bell Chapel Baptisms 1750 - 1774
Thornton Bell Chapel Baptisms 1775 - 1799
Thornton Bell Chapel Baptisms 1800 - 1836
Thornton Bell Chapel Marriages
Thornton Bell Chapel Burials 1680 - 1724
Thornton Bell Chapel Burials 1725 - 1749
Thornton Bell Chapel Burials 1750 - 1774
Thornton Bell Chapel Burials 1775 - 1799
Thornton Bell Chapel Burials 1800 - 1824
Thornton Bell Chapel Burials 1825 - 1869
WRY Bastardy Bonds 1684 - 1800
---
Notes on the Old Bell Chapel and its registers
The Old Bell Chapel dates from the 16th C and covers the districts of Allerton, Clayton, Denholme and Wilsden as well as Thornton - i.e. the epicentre of Jowett activity. It was replaced in 1872 by St James' Church - the remains of the Bell Chapel and the graveyard are across the road from the current church. The original registers, which cover the period 1678 - 1955 for baptisms (and to 1941 for burials - there were no marriages there after 1751) are in the WYAS at Bradford.
These records have been extracted from two sources:
Baptisms 1731 - 1785, burials 1731 - 1787, marriages 1732 - 1751. These are from transcripts obtained from the Bradfrord FHS (Bradford FHS Transcript.) All entries in the transcript are JOWETT
The remaining entries 1679 - 1866 (burials), 1680 - 1837 (baptisms) plus 4 marriages 1682 - 1711, were all extracted from the microfiche of the original register at Sheepscar (WYAS/81D85)
The total count of Jowett records for the period covered is 513 entries (227 baptisms, 250 burials and 4 marriages, with 32 births also recorded). Of these 286 referred to residents of Thornton itself, 104 from Clayton, 58 from Wilsden and 30 from Allerton with the rest distributed thinly around surrounding townships and parishes.
Some interesting extracts from the Thornton Bell Chapel records include:
"Thornton West Road: Grace Dobson of Thornton, County Ebor, in the chapelry of Thornton and parish of Bradford maketh oath that the body of Jonas Jowet deceased of same place was not wrapped in any thing but as was made of sheeps wool only according to act of parliament and ye said oath sworn before me Mich W____, curate of Thornton, Jan 31 1727-8. Test Benjamin Jowett"
This relates to the law, passed in the reign of Charles II, which enforced burying the dead in woolen "for the lessening of the importation of linen from beyond the seas, and the encouragement of the woolen and paper manufacture of the kingdom". It remained in force until 1814!
Other parts of the register describe the reserved seating arrangements in the chapel but not a Jowett in sight! There is one (undated) reference to Joshua Jowett as a church warden but this is not repeated - he did not last long!
One other - again undated but possibly 1735 - reference describes a list of money paid out on account of the vestry, including:
"Jonas Jowett for 12 yards of flags 3s"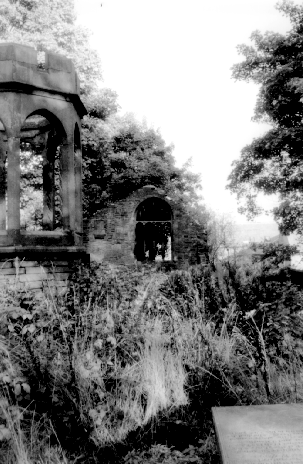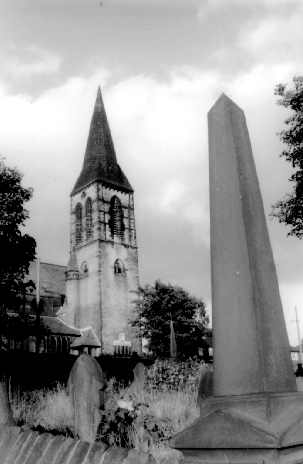 The ruins of the old Bell Chapel (top and left) and the Victorian Church which replaced it, taken from the graveyard of the old chapel (right)
---
The Brontes of Thornton and Haworth
There is a close link between Thornton and the Brontes of Haworth. Patrick Bronte was curate of Thornton between 1815 and his move to Haworth in 1820, so if your Jowett ancestors were baptised or buried at Thornton in this period it is probable that Patrick officiated at the event. Whilst searching out the Jowett records for this period I came across the baptisms of several of the Bronte Sisters as well as their brother Bramwell. This prompted me to search out other genealogical records of this famous family and, with a few contributions from fellow workers, I have included these as a special feature. For more details on the Brontes see www.bronte.org.uk/
Maybe they are not related directly to us Jowetts, but they were certainly around at the same place and time and many an ancestor of ours will have doffed his cap to the Reverend and his daughters as he passed them on the streets and lanes of Haworth and Thornton. Who knows, perhaps Heathcliffe was really a Jowett!!!!
One of Patrick's first services at Thornton - on July 23 1815 - was a thanksgiving for the Victory over Napolean at Waterloo. In Thornton he found a community deeply divided by its religion - either chapel or church. Old names in the area such as "Egypt", "Worlds End", "The Walls of Jericho" and "Jerusalem Farm" were indicative of the strength of non-conformity in the area, centred around the Independant Chapel at Kipping. The Reverand Robinson Pool was the minister at Kipping whilst the Brontes were there, and legend has it that Pool and Bronte used to meet regularly in Pool's study for private prayer. Kipping chapel was the mother of all the Independant or Congregational churches in Bradford and was considerably enlarged during this period to accommodate the ever increasing congregation. In contrast, Patrick's own "Old Bell Chapel", built in 1620 was already in a delapidated state and Patrick set about restoring it in 1818. Several years later Francis Leyland (The Bronte Family, 1886) described it:
The Interior is blocked, on the ground floor, with high backed, unpainted deal pews. Two galleries hide the windows almost from view and cast a gloom over the interior of the ediface. The area under the pews, and in the aisles is paved with gravestones and a fetid, musty smell floats through the damp and mouldering interior.
Taken from Thornton Baptism Register:
| | |
| --- | --- |
| Aug 26 1815 | Elizabeth, d of Patrick and Maria Bronte of Thornton, Minister |
| June 29 1816 | Charlotte, d of Rev. Patrick and Maria Bronte, Minister of Thornton |
| July 23 1817 | Patrick Branwell, s of Rev. Patrick and Maria Bronte, Minister of Thornton |
| 26 August 1818 | Emily Jane, d of Rev. Patrick and Maria Bronte, Minister of Thornton |
| 25 Mar 1820 | Ann, d of Rev. Patrick and Maria Bronte, Minister of Thornton |
From the 1851 census for Haworth:
(with thanks to Joan Madsen in Virginia USA)
l Parsonage House, Haworth
Patrick Bronte A.B.
Head
Widow
74
Incumbent & Perpetual Curate of Haworth, Bradford.
b. Ireland
Charlotte Bronte
Dau
Unm.
34
No occ.
b. Thornton, Yorks
Ellen Musson
Visitor
Unm.
33
No occ.
b. Birstall, Yorks
Tabitha Ackroyd
Servant
Unm.
81
b. Howarth
Martha Brown
Servant
Unm.
22
b. Howarth
And from the Parish records of Haworth, Yorkshire, where the Reverend Patrick Bronte brought up his children after his move from the neighbouring parish of Thornton, Dodie Shaw of Clearwater, Florida tells me he was still officiating at baptisms, marriages and burial services right up to the burials of his own wife, Maria in September 1821, and his daughters, Maria in May 1825, and Elizabeth in June of the same year.
Maria BRONTE (nee BRANWELL, born 1783), died at the age of 38 on September 15th 1821, leaving 6 young children, (she was almost 30 before she married) and was buried September 22nd with another minister officiating, but Patrick officiated at a wedding on Aug.21st, and baptised a baby (Nanny SMITH) on September 11th. He resumed his duties by September 29th, when he baptised Mary TOWNEND - aged 23 weeks, daughter of James and Susan TOWNEND, and also buried the afforementioned Susan TOWNEND, aged 31 on the same day.
On May 12th 1825, his daughter Maria (12) was also buried, with another minister officiating, but Patrick officiated the very next day at the burial of Joseph PIGHILLS aged 28. On June 18th (5 weeks later) his 10 year old daughter Elizabeth was also buried. Charlotte was 9 at this time, Emily was almost 7, and Anne was 4. Their brother Branwell was almost 8. They all died within 30 years - 1855, 1848, 1849, and 1848 respectively. The Reverend Bronte died in 1861.
From the Probate records
(in the Borthwick Institute, York)
Emily Bronte (1818 - 1848) and Anne Bronte (1820 - 1849) both died intestate. In both cases their father had to go to the probate courts to be able to administer his daughters' estates. The administration bonds for both are in the Borthwick - Emily's estate (probate dated 31 January 1849) was valued at £450 plus unspecified funds, Anne's (dated 3 September 1849) at £600 plus unspecified funds.
Charlotte (1816 - 1855), who had married Arthur Bell Nichols did leave a will, probably because she was pregnant at the time. The will is dated 17 February 1845, and Charlotte sadly died before the child was born, on March 31 1845. The will, which is not in Charlotte's own handwriting (except for the signature) was proved in April 1855. Estate was originally valued at under £2000 (on 10th April), but 6 days later it was valued at under £20, probably because much of the estate was with her publishers, and outside the geographical jurisdiction of the court in York.
The will read as follows:
In the name of God amen - I Charlotte Nicholls of Haworth, in the parish of Bradford, and county of York, being of sound and disposing mind, memory and understanding, but mindful of my own mortality, do this seventeenth day of February in the year of our lord one thousand eight hundred and fifty five make this my last will and testament in manner and form following, that is to say: in case I die without issue I give and bequeath to my husband all my property to be his absolutely and entirely; but in case I leave issue I bequeath to my husband the interest of my property during his lifetime, and at his death I desire that the principle should go to my surviving child, or children, should there be more than one child, share and share alike - And I do hereby make and appoint my said husband, Arthur Bell Nicholls, clerk, sole executor of this my last will and testament - In witness whereof I have to this my last will and testament subscribed my hand, the day and year first above written.

Charlotte Nicholls

Signed and acknowledged by the said testatrix Charlotte Nicholls as and for her last will and testament in the presence of us who, at her request, in her presence, and in the presence of each other have at the same time hereunto subscribed our names as witnesses thereto -

Patrick Bronte AB, incumbant of Haworth, Yorkshire
Martha Brown
---
Jarratts in Thornton
There are also several Jarratt entries in the Thornton records which initially caused concern as to another (unwanted!) variant. However, it is now known that Matthew and John Jarratt (brothers) arrived in the Bradford area from Bridgnorth Salop, Matthew settling in the Thornton area and John settling in the Manningham area. The locals were obviously confused too as Matthew's first child John (by his first wife Judith Sophia) was baptised at Horton Lane Chapel as John Jowett! Matthew later married Mary Brook at Bradford St Peters on 10 Mar 1828 by special license, and had up to ten children. This data comes from Alan and Susan Thompson (e-mail dated 12/12/1998). Alan and Susan have in their possession a copy of a will of a Mary Jane Jarratt of Lilycroft Rd Manningham dated 1939. She was decended from John of Manningham and some of the bequests are to: "Herbert Jowett" "Mr Arthur Jowett","Mrs Fred Jowett","Mrs Herbert Jowett","Miss Margaret Jowett" amongst others.
---


---
Copyright S D Jowitt