JOWETT

VARIATIONS

Researching the surnames Jauet Jawet Jawett Jawit Jawitt Jewet Jewett Jewette Jewit Jewitt Joet Joett Joiet Joiett Jooet Jooett Jouet Jouett Jouiet Jouiett Jowat Jowatt Jowet Jowete Jowets Jowett Jowette Jowit Jowitt Jowt Jowwat Jowyit Jowytt Juett Juit Juitt

Do you have any of the above surnames in your family history? Then you have found the right site! Here you will soon be able to find a constantly expanding collection of data of interest to those researching Jowett etc. in England and the American equivalent form Jewett.
Bookmark this site and check it out regularly!!!



---

---
ORIGINS OF THE NAME - JULIANA'S SON OR NORMAN NOBLE?
There are two main schools of thought as to the origin of the surname. One is that it comes from Henri De Juatt, A Norman who lived in England during the 11th Century and is alleged to have been given lands in Bredbury in Cheshire by William the Conqueror (though I can find no record of this in the Domesday book). This particular Henri probably originated in a village near Caen in Normandy named Jouette.
F C Jewett in his Genealogy of the Jewetts of America states (without source) that Henri was knighted and supposedly participated in the Pilgrimage and Assault on Jerusalem in the First Crusade, 1096-1099. Other sources suggest that the family then probably spread out to Derbyshire and, eventually Yorkshire where roots were firmly planted. Other early Jowetts, and possible descendants of Henri include William Juet who lived in Huntingdonshire in 1273 and Robert Jouet of Somerset, known to have been alive in 1327. Though there is no known Jowett population in Somerset, the Jowetts in Ivinghoe, Buckinghamshire, known to be present in the late 16th century and probably earlier than this too, are probably descendants of William.
However, I have recently been having serious doubts about the Henri theory. The crux of the argument is that in the 11th/12th centuries (i.e. the time of Henri), surnames as such simply did not exist. Henri de Juatt was known as such because that is where he came from, and it is almost certain the if he left France, his offspring would be Tom, Dick and Henri de somewhere else, and have no reason to take on the Jouet name themselves.
Also, after much digging around in text books on the Crusades, I have not found even one mention of the alleged Henri de Juatt. Indeed Jonathan Riley-Smith in his The First Crusaders 1095 - 1131, which lists several pedigrees of Crusaders and also contains a comprehensive list of certain and probable Crusaders, makes no reference whatsoever to a Henri de Juatt.
The other, more likely source of the name is that it is derived from a personal name - a diminutive of Juliana, variously found as Joetta, Jowet, Jouuet and Jowett which was popular in the 13th and 14th century. An example as late as 1438 is found in Jowett Barton who lived in York. As well as Jowitt/Jowett, another modern form of the name is Jewett and this is how the name was probably pronounced originally.
Though there are other theories, (e.g. "little Jew", from the Jute tribe, or of more recent French origin), the truth as to the origin probably lies with a foot in many camps, though my own belief is that the Bradford Jowetts at least, being so pointed in distribution, are of the Juliana line. However, I would be delighted to find proof to the contrary! What is certain is that there is a comradery between Jowetts and/or Jewetts on both sides of the Atlantic and beyond which has resulted in much work on the name for over a century now.
Whatever the origin though, it is clear that the name Jowitt/Jowett and other variants did consolidate dramatically in the Bradford area of the West Riding of Yorkshire and the main concentration of the name is still in that area. More specifically, it is thought that most present day Jowitts are descended from ancestors in the village of Clayton, a township of Bradford parish. The distribution of IGI entries before 1600 confirms this distribution, though there are also significant outposts in Wilne (Derbyshire) and Ivinghoe in Buckinghamshire (the descendants of William of Huntingdonshire?). Looking at some early records of the name, the poll tax of 1379 shows nine entries for the name in the Bradford area, whilst the muster rolls of Bradford in 1539 show thirteen entries for Jowett ("Jooet") in the area, including six "Bills", five archers and 2 "not able".
The two most common modern spellings of the name in Britain are Jowett and Jowitt, which were virtually interchangeable up until about 1850 (though with a general trend for Jowett in Bradford/Halifax and Jowitt in Leeds), many persons using both spellings at various stages of their lives. In contrast, medieval spellings are plenty, many have just the one "t", sometimes followed by an "e", e.g. Adam and John Jowete of Clayton (1379) and William Jowet of the adjoining township of Thornton (1379). An early use of the double "t" was found in 1439 in John Jouett of Thornton.
Other early variations include Jooet, Joet, Joiet, Joiett Jewet, Jowytt, Joyte and Joyet, all of which probably reflect the earlier pronunciation of the name. Indeed, as the name spread to other parts of the country, particularly East Yorkshire and the North East of England, the form Jewitt becomes increasingly more common. The American descendants of Joseph and Maximillian Jowett still use the form Jewett.

Distribution
The early distribution described above is shown in Maps 1, 2 and 3. The next four maps show the spread of the name form its 16th century Yorkshire base, through the 17th, 18th and 19th centuries when it gradually spread out to the South and East Coasts, the West Country and most importantly up towards the North East of England. The 1881 census distribution shows this more consistantly.
The final two maps show the different distributions for the two main variants over the entire IGI period. The Jowett etc. distribution is still very much Yorkshire (and Derbyshire) based whilst the Jewitt etc. distribution (in Britain Jewitt is commoner than Jewett) is based in the area north of the county but also more widely (and thinly) spread over the whole country, notably the South East and the East Midlands.
The total number of entries in the 1881 census of England is 4707 for all variants; two thirds of these are in Yorkshire. Welsh total is 36, Scotland 3, others (RN) 2.





---
THE AMERICAN CONNECTION
The Jewett coat of arms is claimed to be derived from that of Henri De Juatt, and was allegedly taken over to the New World by Maximillian and Joseph. I have yet to encounter anyone with primary evidence of this - can anyone confirm?
Maximillian and Joseph Jowett, two of the sons of Edward Jowett, a clothier of Bradford, emigrated to the New World in 1639. To escape persecution for their religious beliefs, they sailed from Hull on the "John of London" with Reverend Ezekiel Rogers and were instrumental in establishing the town of Rowley, Massachusetts.
The origins of Edward are uncertain though many have speculated. Tracy Elliot Hazen, in the New England Historical & Genealogical Register, 1940, vol. 94, pages 99-107 suggests that he may be the son of the William Jowett buried at Bradford 17 Feb 1603/4, and possibly the widow Jowett of Bradford buried there 27 May 1613. Others have suggested he was son of William Jowett, mayor of Chester (Frederick Clarke Jewett in his Genealogy of the Jewetts of America also makes mention of William Mayor of Chester, but stops short of actually suggesting he is Edward's father). Henry L Jewett, in the Jewett Family of America Yearbook 1911 has suggested that he was the son of Thomas Jowett and Elizabeth Shackleton who were married at Bradford in 1578 (this seems a little confused; FCJ makes a reference to the above William who was Mayor of Chester in 1578 and also the son of Thomas Jowett and Elizabeth Shackleton so they could not have been married in that year; Also the Bradford records for that year are no longer extant so what was the source?). However, evidence for any of these seems to be little more than the fact that they may have been in the right place at the right time!
We do know that Edward had married Mary Tayler, daughter of William Tayler, at Bradford on 1 October 1604 and according to the parish records of the time they had six children:
William, baptised 15 Sep 1605, married Ann Field 22 Aug 1626.
Maximillian, baptised 4 Oct 1607, emigrated to America.
Joseph, baptised 31 Dec 1609, sailed with Maximillian to the New World.
Grace, baptised 4 Nov 1610 - not mentioned in the will of Edward so probably died in infancy.
Josias, baptised 17 May 1612, buried 23 Jun 1612.
Sarah, baptised 31 Aug 1613, named in Edwards will.
Edward died in 1614/5, and was buried - as Edward Jowett of Barkerend, Bradford - 4 Feb 1615/6. His will, dated 2 Feb 1614/5 divides his estate into three parts, two of which to be divided between his children William, Maximillian, Joseph and Sara, the third part to his wife Mary. Executor is Mary, his wife, supervised by his father in law William Tayler, his brother in law Henry Tayler and Samuel Tayler and Trustrum Ledyard.
Joseph and his wife Mary were among the early members of the First Church in Dorchester (admitted before "4da .:9mo. 1639), where they probably spent the first winter before joining the new settlement of Rowley in the spring. He was a freeman 22 May 1639 and was deputy to the Central Court in 1651, 1652, 1653, 1654 and 1660. In 1656 he is called "clothier" and later "merchant" and was active in business affairs most of his life. As late as 1653 he and his son were still using the spelling "Jowett", later changing to the "Jewett" used by his descendants.
Maximillian travelled with his first wife Ann. He was a freeman 13 May 1640 and held a two acre lot on Bradford Street, Rowley in 1643. He was one of the first two deacons of the Rowley Church, ordained 3 Dec 1639 and many times represented in the General Court. His will, dated 8 Jan 1682, is filed in Salem and mentions an unnamed wife (in fact it was Ellen Boynton whom he had married in 1671, four years after the death of Ann); a marriage contract, and "her son John Boynton"; Maximillian's eldest son Ezekiel is executor; son Joseph has the homestead; daughter Anna to have certain lands for life, with the remainder over to her son Jonathan Barker; daughter Mary Hazeltine; daughter Elizabeth Hazeltine; daughter Faith Dowse; daughter Sarah Jewett (Essex probate, 302;121).
The descendants of Maximillian and Joseph in America are plenty, topped up by those from other early immigrants from Bradford - relatives of Max and Joseph. The name transformed from Jowett to Jewett fairly early on in the line, before the deaths of Maximillian and Joseph in fact. This probably reflects the pronunciation and the broad Yorkshire accent that the brothers almost certainly retained for all of their lives. The line is also extensively researched: for further details, including a transcript of the will of Maximillian see Theresa's New England Genealogy web site. For more pictures of Rowley and its Cemetery as well as extracts from The JFA Yearbook of 1911 and other interesting articles see Elizabeth Vose's site.

See also American Distribution Maps 1850 - 1990, Rowley Freeholders 1677 and Jewett probate records in Essex County MA By Date, By Name

The plaque in Rowley Cemetery erected by the Jewett Family of America in 1912 (picture Elizabeth Vose)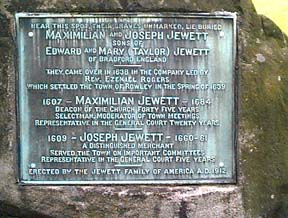 (Picture Joseph Kennedy).
There is however a second source of the name in America, derived from French Huguenot immigrants to Virginia about one hundred years later than the Rowley settlement. A member of this line is Captain John Jouett, a hero of the American Revolution. For more details of this line see Jo Thiessen's Juett/Jouett/Jewett Family homepage.

Jowett or Jewett?
There is an on-going debate as to the correct surname for Joseph and Maximillian - were they Jowett or Jewett? This has been fuelled by FC Jewett's famous genealogy which uses the form Jewett throughout. I hope here to put the record straight and put an end to this tedious arguing!
The primary evidence (e.g. the Bradford Parish Registers and the will of Edward, father of Joseph and Max) clearly uses the form Jowett. This is irrefutable and I welcome anyone to check out the original records to confirm this. Jowett is by far the dominant form in the registers at this time. For example, between 1599 and 1615 I have found 95 entries for the name in the Bradford Burials register - 90 for Jowett, 5 for Jewett. This is typical of the records at that time.
In other words, FCJ is wrong in his interpretation here. (Despite this error I would fully recommend anyone researching Jewetts in America to obtain a copy of this otherwise excellent piece of research).
However, we have so far only discussed the written form. During this period language was very much a spoken thing; the vast majority of the population could neither read nor write and names in particular were only written down on very rare occasions, normally by clerics or servants to the monarch or landowner. Those local people that could write (e.g. Joseph and Max) signed their name Jowett (see Hazen, NEGR 1940).
It is significant that the name, when written down in Bradford by a local person, is written as Jowett, but when written down by non local people or outside of the West Yorkshire area it becomes Jewett. Examples of this include the muster rolls of 1539, which were all written down as Jooet, and of course Joseph and Max's American contemporaries towards the end of their lives who used the form Jewett which stuck and continues to this day.
It is a shame that we will never know exactly what a Bradford accent in 1600 really sounded like, but this all implies that the name was pronounced Jewett.
So the answer to the question Jowett or Jewett is really quite simple: write it as Jowett, pronounce it as Jewett!
N.B. I have deliberately avoided discussing the variation of the second vowel, or the number of "t"s in the name. To argue that would be sad in the extreme. Also bear in mind that the arguments here are specifically relevant to 15th and 16th century England. The situation now is very different, though the two are (and always have been) variants of the same name so one could also argue what does it matter!


---
Contents:

Alice Jowett of Trout Lake, B.C
Benjamin Jowett - philosopher
The Clockhouse Jowetts
Colonel David Jewitt
David R Jewett (photo)
Elsie Jowett - millionaire of Ilkley
Frederick William Jowett MP (this link will take you out of the Jowett Variations web site)
George Fiusdale Jowett - bodybuilder
The family of Joseph and Margaret Jowitt of Manchester
Hardy Jowett, Missionary
Jack Jouett - Louisa County's Revolutionary Hero (this link will take you out of the Jowett Variations web site)
John Rodgers Jewitt of Nootka Sound B.C. (this link will take you out of the Jowett Variations web site)
Captain Joseph Jewett
Leonard Jowitt, Battle of Britain Hero
Llewellynn Frederick William Jewitt - engraver and author
Sarah Orne Jewett - authoress
Thomas Jewett - American Civil War Deserter
Thomas Orlando Sheldon Jewitt - engraver and artist
William and Benjamin Jowett - car makers
William Allen Jowitt - politician
William T "Dad" Jowett, hermit of Antelope, Oregon

Here you will find stories relating to Jowetts in Yorkshire Folklore and information about famous Jowetts all over the globe. It is a collection of references and tales relating to the famous and fortunate as well as the infamous and unlucky (though I have not found any of these yet!). If you know of any tales, know any famous Jowetts in your area or encounter any Jowetts featured in your local press please let me know.

Some other famous Jowetts include:

Captain Joseph Jewett, born 13 Dec 1732 North Lyme CT, died 29 Aug 1776. Capt. Joseph Jewett served in the 17th Continental Regiment and was on the Lexington alarm list Apr 1775 serving 31 days, was Captain of the 8th Connecticul regiment from 6 Jul 1775 to 10 Dec 1775, and made Capt. of the 17th Continental regiment (8th reorganized) 1 Jan 1776 in which he served until his death, which occurred while a prisoner after the battle of Flatbush, Long Island. There are two versions of his death:

Deacon N. Richards, one of his non-commissioned officers, reported: "Capt. Joseph Jewett of Huntington's Regiment, an officer much respected and beloved, of elegant and commanding appearance and unquestionable bravery, was murdered in cold blood, having surrendered his sword when demanded, the British officer, on receiving it, instantly plunged it through his body." (Vermont Chronicles)

The other version is a statement of Lt. Jabez Fitch, who was in Capt. Jewett's Company and was taken prisoner at the same time. He says that the Captain was three times wounded by bayonet stabs "after he had surrrendered," but makes no mention of his having been run through by a British officer with his own sword.

Thanks to Lee Jewett Petry, Historian, Jewett Family of America

Jewett, Randolph (or Randal) (d. 1675), composer of anthems and organist of St Patrick and Christ Church, Dublin; Mus.Bac., Trinity College, Dublin; minor canon of St Paul's Cathedral, 1661; organist of Winchester.

Jewitt, Arthur (1772-1852), topographer; author of History of Lincolnshire (1817), of Buxton (1810), The Northern Star, or Yorkshire Magazine (1817-18), and mathematical handbooks.

Jowett, Joseph (1752-1813), professor of civil law; fellow, 1773-95, and tutor of Trinity Hall, Cambridge, 1775; LL D, 1780; Cambridge professor of civil law, 1782; vicar of Wethersfield, Essex, 1795.

Jowett, William (1787-1855), divine and missionary; nephew of Joseph Jowett; fellow of St John's College, Cambridge; twelfth wrangler, 1810; MA, 1813; missionary in Mediterranean countries and Palestine, 1815-24; secretary of CMS, 1832-40; incumbent of St John, Clapham Rise, London, 1851; works include Christian Researches in the Mediterranean (1822) and in Syria and the Holy Land (1825).

Jowitt, William Allen, Earl Jowitt (1885-1957), lord chancellor; educated at Marlborough and New College, Oxford; first class, jurisprudence, 1906; called to bar (Middle Temple), 1909; KC, 1922; Liberal MP, the Hartlepools, 1922-4, Preston, 1929; joined Labour government as attorney-general, knighted, and re-elected for Preston as Labour member, 1929; remained in `National' government, 1931; defeated as National Labour candidate, Combined English Universities, Oct. 1931; resigned office, Jan. 1932; Labour MP, Ashton-under-Lyne, 1939-45; solicitor-general, 1940-2; paymaster-general, 1942; minister without portfolio, 1943-4; of national insurance, 1944-5; lord chancellor, 1945-51; leader of opposition in House of Lords, 1952-5; baron, 1945; viscount, 1947; earl, 1951; published The Strange Case of Alger Hiss (1953), and Some Were Spies (1954).
---
16 July 1998: Site created
17 July 1998: Jowett links
18 July 1998: Origins and Medieval sources
18 July 1998: The American Connection
18 July 1998: Jowitt Folk
25 July 1998: Distribution Maps
2 August 1998: My own Jowitt ancestors - the Jowitts of Oulton
14 August 1998: Jowett Miscellanea
16 August 1998: Jowett Wills
28 August 1998: Parish Registers
30 September 1998: Civil Records
5 October 1998: American Distribution Maps
February 1999: The Yeoman Clothiers of Bradford
February 1999: Mary Jowitt's Photo Album
March 1999: Wakefield Court Rolls added
May 1999: Will and Inventory of Nehemiah and Exercise Jewett of Ipswich added
May 1999: Jowetts in Derbyshire added
September 1999: Jowett Register added
December 1999 Bradford Marriages 1596 - 1650 added
January 2000: Birstall entries added
February 2000: Wibsey entries added
June 2000: Bradford Quaker Records added
October 2000: Site moved to jowitt1.org.uk
November 2000: Jowett Register updated; Bradford Registers updated; Jowett Wills updated
December 2000: Jowett Register updated; Bradford Registers updated; Jowett Wills updated; Jowitt Folk updated
Jowetts in New South Wales 1795 - 1905 added
December 2001: Thornton churchwarden's book - Jowett orders, settlements and apprenticships 1684 - 1800
Obituary: Hardy Jowett of China, Missionary
Inventory of Ezekiel Jewett of Ipswich 1723
More Jowett entries in the Registers of Bradford Cathedral - Marriages 1751 - 1812
Register updated February 2006
---

---
JOWETT VARIATIONS is Registered with the Guild of One Name Studies and is therefore committed to studying all aspects of the surname and its many variations, not just those connected to my own ancestry. To this end I am building up a comprehensive database of entries for the surname extracted from a continually increasing number of parish registers, wills indexes, civil records and many other sources. These records will be continually added to this page as the database expands. Please feel free to contact me at if you have any data to add or if you have any questions

---
Researching the surnames
Jowett Jowitt Jewett Jewitt Juit Jouet Juett and variants
Dave Jowitt, The Coach House, Hooton Road, Hooton, Cheshire, England, CH66 1QU variations@jowitt1.org.uk
GOONS No. 2489; FHS Cheshire No. 1946WR.

Copyright S D Jowitt